As with most of the working people in the Philippines, half the day was spent in the office, not really doing much work, but chatting amongst our colleagues comparing who will be having what for their Noche Buena Feast later that night...
I looked forward to something else in particular.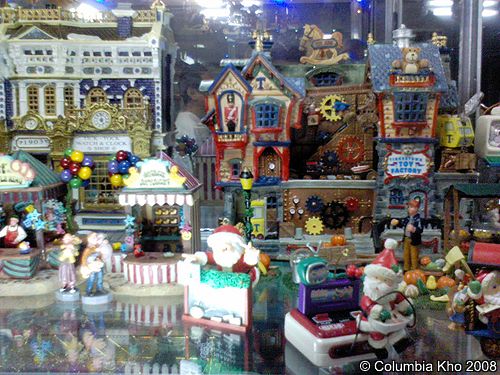 Yes, to those familiar, I went to
my Uncle's Toy Workshop
again on Christmas Eve. And he had a lot of new toys on display..!
He had his Coca-Cola collection up for everyone to see. I'm pretty sure
Bong
would love to see these up close. I didn't get to do any macro shots since my camphone can't take pictures up close.
I also got to take pictures of some of the items I missed, like this Pikachu collection. There were so many that I lost count! I think I missed a few of them in this shot too...
And for all the otaku out there stumbling upon my blog, a collection of random gashapon! I can't tell which series they're all from, but I saw a few of Rei Ayanami and Asuka Langley from Evangelion. Kitajima Maya from Tenjo Tenge in her two forms were also there, and... is that Agito/Akito from Air Gear wearing a maid outfit??? O_o;;;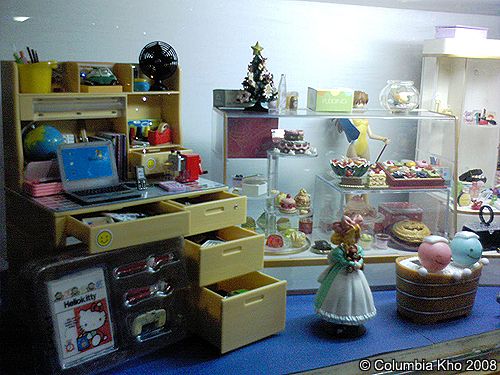 This is probably one of my favorites in the collection. I love tiny food displays, as well as study desks. There was a laptop and cellphone on the desk and the drawers were filled with stationary items!
It was a nice way to spend time waiting for Christmas to arrive. I keep going back to the same displays taking a second look to check out the items I missed. Uncle is planning to open his collection to the public for about P100 as entrance fee.
He also told me one of the 2 major local news network will be interviewing him on January. A pleasant New Year this will be for him! Congratulations, Uncle!
Merry Christmas, everyone~ Oh, and I'll post my new Haro pillow from Uncle when I get the chance to clean up the memory space in my phone. xD;;;