Christmas has come to an end. I'm glad I got to finish
my Christmas Card for A.illusions
just
minutes
before it officially ended! Haha~!
In case you're wondering what the Chinese text means, the translation is in
my Deviant Art
. ;)
My actual Christmas day was a little more complicated. I keep telling myself he's being an angsty teen, but gah~! I still think he's a spoiled brat who needs spanking! Grrr~~~
Maybe it was because I was pretty much spoiled until 4th(?) grade, but... ugh... I don't remember talking back to my parents or my older siblings. @o@;;;
Anyhow, I was glad we went to Burgoo in SM North for dinner. Despite the sour company, the food was great~ I shall keep in mind that Mother loves angel hair pasta... just like myself. :3 Angel Hair Tomato basil with mushrooms and olives is a definite recommend! For as you can see... I lack the pictures to share because we finished it as soon as it hit the table..? xD
We were lucky to get seats by the window, and even luckier to see the fireworks from Trinoma! Too bad no amount of luck could cure a sour grape. ._.;;;
Oh, and that image on the right is Mary Parphacy from Gundam 00, season 2. I got to draw a quick sketch of her while waiting for our food in Burgoo. I didn't get to finish since Mom was excited about the food and stuff. :3 And the crayons were all dull pointed, gah... it was hard to put any details, if at all. ;~;
She looks cute with a Santa Hat though. :3
All in all, I guess my Christmas wasn't too bad. I was kinda surprised that a little mouse on the kitchen counter was all it took to take away my bad mood as well as my Mom's. xDDD We both got surprised when the little critter waltzed right past us without missing a stride. Maybe God didn't want either of us to be a sour grape on His special day.
..and I got to take a picture of my haul~!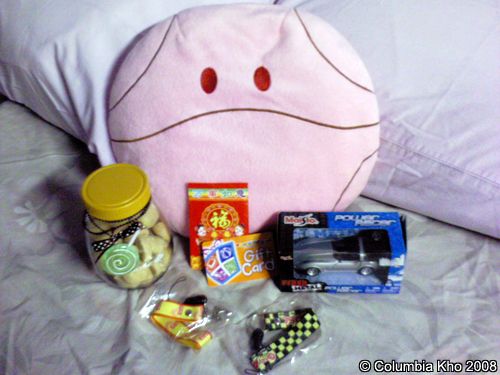 I got a pink Haro pillow from my Uncle (the same uncle with the Toy Workshop); Coffee Meringue, lollipop necklace, Maisto Power Racer, and a P500 Toy Kingdom gift card from the office; PLDT my DSL and Sun Cellular cellphone straps from my Aunt, and, most importantly, angpao from Mom~!
My thanks to my "mystery parent" from the office. :3 Now I got an image of my dream car. xD I was glad my "child" seemed to have accepted my gift well. xDDD My *cough* dear *cough* child, it is harsh of me, but you shall never know me! Roflmao~