About a week ago, and because I keep forgetting to post this, my nephew asked for some help with his bulletin board design. He drew the Nativity Scene from reference, but had some trouble with drawing the sheep because he didn't think it was cute enough.
Nephew likes cute things. What.
So he asked me to draw a cute sheep for him, this is what I came up with:
It's amazing how round things make for a general approval for the term "cute". You can still see the pencil marks since I was lazy in cleaning this up. It made me realize how slow I am with conceptualizing and executing, since Fluffy took me 30 minutes to do.
There was something funny about the pen my nephew lent me to ink with though…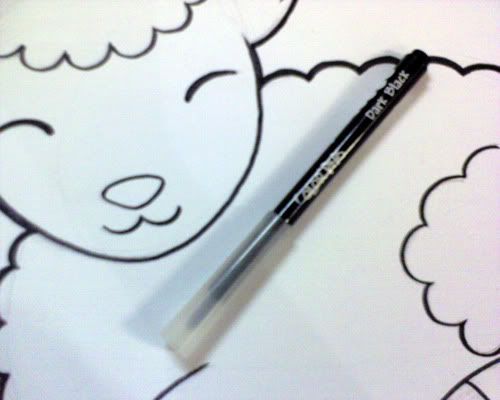 The pen says "Dark Black".
What.
I suppose "Light Black" is how they label grays nowadays?