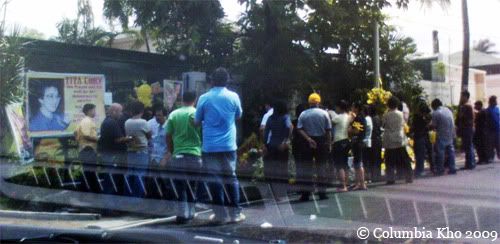 A sad, yet uplifting scene I keep seeing past when I head to work. You'll have to forgive the photo quality, I took it from inside the car this morning. It's a little frustrating that traffic is killing me ever since people have been coming to visit outside of the late president's house, but it's also nice to see people appreciating what she has done for this country.
She's probably one of the few honest leaders this country's ever had. And to see people flocking to pay their respects makes me think that the Philippines may not be so hopeless after all.
I hope Lady Corazon Aquino finds peace... she, of all people, deserve it... much, much, more than anyone.