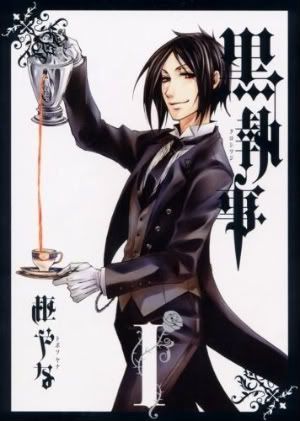 A young boy is suddenly orphaned at the age of 12 and takes over the Phantomhive family business; that is the fate of the young master, Ciel Phantomhive. In order to survive, he makes a contract with the demon Sebastian Michaelis to serve as his butler and bodyguard.
I've picked up this series recently, and I have to say, the animation is very impressive. I haven't been too happy about the animation I've been seeing recently, but Kuroshitsuji looks very well-made so far. Even the action scenes are a welcome sight, after the decline in Bleach's and Vampire Knight's animation quality.
..and besides, Sebastian is very bishie material. I suppose Ciel would be qualified for Shota, or something of the like, but hm~ a bishie demon butler serving you tea and making dinner... not to mention keeping you safe from harm, sounds like a dream come true.
Aside from the demon part that is. ^_~
I'm looking forward to future episodes of this series. I'm considering on picking up the manga too. It makes me wonder if there's a way for Ciel to break his contract-
AHA! Episode 3 finished downloading~ Yatta! *goes to watch* (~'.')~