The third installment of DJ Max Portable for the PSP is now here! I started playing this game yesterday and I have to say, it has the same appeal as the first two... very, very addicting with stunning music videos and breath-taking OST! Musical classics from the first and second DJ Max like Oblivion are available to play and unlockable in Clazziquai, a great feature for the loyal DJ Max players like myself. It gives the players more incentive to learn how to play the 5 and 6 button mixes.
The additional feature Clazziquai has is the Club Tour where a set of challenges are set out in order for you to unlock OSTs, effects, DJ's and etc. It's a little frustrating for those with a little less thumb-eye coordination people like myself, because certain challenges have 5 and 6 button sections in them.
There's also a new introductory game play option, the 2 button version. This is a great way to learn how to play DJ Max, if 4 buttons are too much for you.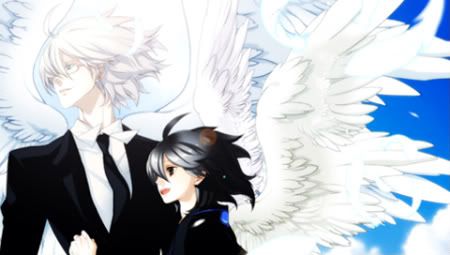 I wish they had that option in the first DJ Max, because I had a heck of a time learning. Then again, it's because they didn't have that before that I can play 4 buttons now.
I'm pretty much going to spend a lot of time playing this game. The animations for the music videos are better than ever, and I have LSS on "First Kiss" by BJJ. Gotta love how DJ Max caters to any if not all music lovers.
..out of curiosity, you think that person with the black hair is a boy or a girl?
Random Quote: No Music, No Life~