I've been going around and about Greenbelt 5 (?) thanks to my IELTS exams. Most of you know that I hardly get to go out and have fun thanks to my near impossible circumstances, so forgive me if I find the most simplest things in life amusing~ xD
Anyhow, I have to walk from the MRT station in Ayala to SM Makati, Landmark, then Greenbelt to get to the IDP office. The first time I had to do this was when I took my English lessons on Valentines Day.
And wouldn't you know it?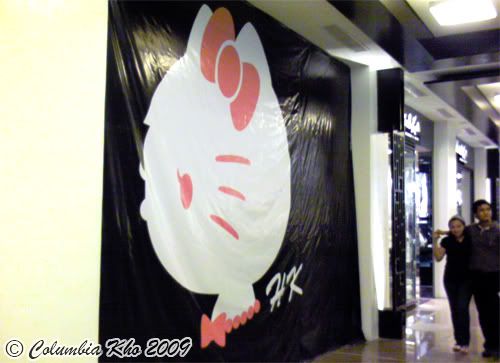 This is one of the things I saw on Valentines Day. I've seen this Hello Kitty icon in Hong Kong some time ago, and I believe it's a Hello Kitty Clothing Line for adults.
Yes, Hello Kitty has entered the fashion industry and is taking the world by storm. I'm actually curious how it will fair here in there Philippines.
And I'm pretty sure
*someone*
will be shopping there quite often.