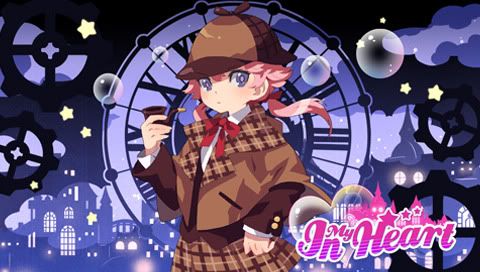 DJ Max Portable: Clazziquai Edition Image – In My Heart 2
"In My Heart" is a cheery, feel-good song that I love playing on Clazziquai. The artwork is superb as well~ The girl looks like she's dressed up as Sherlock Holmes!
I will most likely be using this wallpaper if and when I grow tired of Fate. In any case, you guys know the drill: these are free to share as long as you provide proper credit to me and do not hotlink the images! Thanks, and enjoy!
| | |
| --- | --- |
| | |
| Proposed, Flower, Wolf 4 | Proposed, Flower, Wolf 5 |
| | |
| In My Heart | In My Heart 3 |
| | |
| In My Heart 4 | In My Heart 5 |
| | |
| The Clear Blue Sky | The Clear Blue Sky 2 |
| | |
| The Clear Blue Sky 3 | I Want You |
| | |
| I Want You 2 | I Want You 3 |
| | |
| JBG | JBG 2 |
| | |
| JBG 3 | Melody |
| | |
| Melody 2 | Here in the Moment |
| | |
| Here in the Moment 2 | Here in the Moment 3 |
| | |
| Here in the Moment 4 | The Last Dance |
| | |
| The Last Dance 2 | The Last Dance 3 |