I just had a new, deliciously colored, frozen yogurt!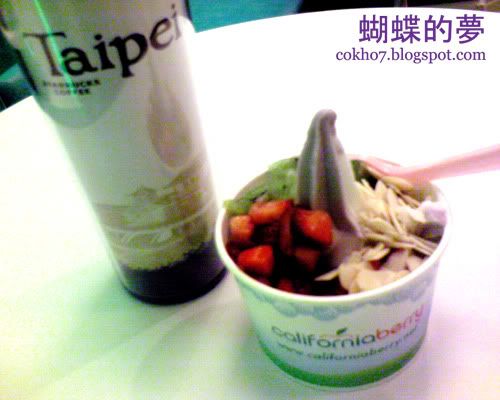 California Berry has released their Blueberry Flavored Frozen Yogurt! I couldn't get the photo to come out any better than this because of the lighting in the shop, but the yogurt is actually purple! And it tastes delicious~! It's the first time I ever saw frozen yogurt in this color! Plus, it's not very sweet, so it's perfect for fruits and nuts toppings!
My sister mentioned she thinks it tastes more like grape than it does blueberries, but I don't really care. I like it either way!
The Starbucks tumbler is something I bought in Taiwan by the way. The frozen yogurt is available here, and the California Berry branch on Tomas Morato is open until 1am on weekdays and 3am on weekends. Since my sister never sleeps, we'll be frequenting this place in the next few days.
I hope they make this a regular flavor from now on. I want to have another cup of this soon!