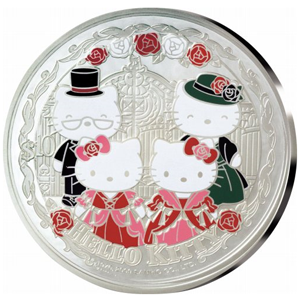 I don't like Hello Kitty very much... in fact, I adore Kuromi more than Hello Kitty.
However, I do have a fascination of coins. Limited edition coins are always lovely to look at, and I think out of all the
limited edition coins set to be released for Hello Kitty's 35th anniversary celebration
, this takes the cake.
I keep thinking it looks as if they've walked into the lang of Kuroshitsuji. And for one, Mimmy's dress looks better that Hello Kitty's (which pretty much reminds me of Baro't Saya, the Philippine's National costume/dress for women).
For people who can't tell who's who, Mimmy on the left, with the bow on her right ear, and Hello Kitty's on the right, with the bow on her left ear.
Why do I have the feeling that I will end up buying these some day? *_*;;;
In other news, flying cockroach at 2 in the morning is no fun and games in the Kho household. =.=;;; I lack sleep thanks to the hovering, disgusting...
asjdhasda!!!
I'm disinfecting everything in my room again later, pfft.