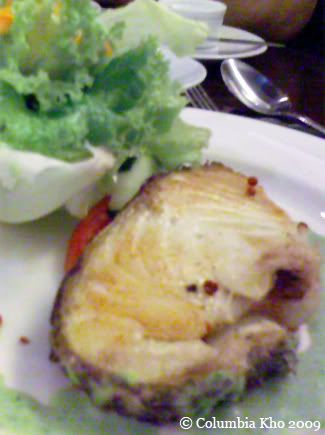 My brother and I treated my Mom to Pink Pepper about a week or two ago when Dad had to go out to meet some associates of his. At first, we wanted to go to Aresi, but the menu had changed dramatically and my favorite Angel Hair Salmon Pasta in Mango Sauce was no longer available.
...the pasta I mentioned is more appetizing than it sounds, I assure you.
Anyhow, this is what we ordered for her. Sea Bass. A delicious, one thousand peso fish in Pink Pepper specialty sauce and... well, pink peppers.
I had initially thought the little red balls of peppers would be to spicy to the taste, however, I was happily mistaken. The peppers were mild, and biting into one gave just the right amount of spice to accentuate the dish. Despite the pricey tag, it was well worth the trip.
My brother and I shared a seafood dish of prawns wrapped in fish. It was also an excellent choice. I'd probably go back to the restaurant again if I wanted to go for fine dining. It was a little sad that they didn't have a lot of customers when we went there... but I suppose it might also be because we had an early dinner.