I finally for my bluetooth working on my new PC! I have so many photos in my phone that I want to post here that I don't know which to show first!
However, I am currently swamped with work and drawing and manga, so I will start with something simple: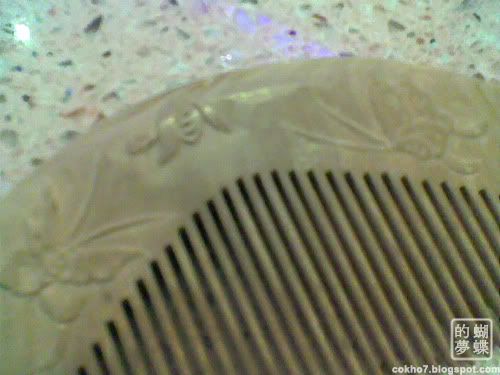 This is a hand-carved, pine wood comb I bought from Hua Mulan in SM Annex. Apparently, natural materials such as wood, ox horn, and goat horn make excellent combs because the mainstream, plastic types will cause hair static.
I'm not sure what else the girl was saying, but my sister swears by their product! I wasn't really interested in buying one until I saw this.
<_< >_> What? I really like butterflies long before I met Yuuko-san!
So far, it does make my hair more manageable than usual. My hair is very hard to tame, so that says a lot! Plus, I comb my hair more often now, because I like poking the butterflies on the comb. ;u;
Simple pleasures… we must treasure them daily~ Just like my lovely Kaname-sama layout~~ ♥